What due
You
Know choice candidates
Fenced by kleptocrats
And undebatable Republicrats
Their exclusive promise
A system fixed
Throwing political parties
Incorporations wee trust
In-firm ideologies
The body politic
Under the whether
Or worse yet
Riddled with ballots
Everlustingly powered by fossil fools
In a match we cannot win
Insurmountably ante
In that roil flush
Heil to the chief
A fight un-till the deaf
Trumped and trumpeted
Victor and Victoria
Dubiously herald and maudlin
Never to be
Over looking
Assuaged by aristocrat videos
On line with your own
Thinking
In auditorium pact
And in undrivable streets
Razing hell
Is the key too city hall
Lo expectations
Unmanageable hopes
And unbridled promise
Be dammed!
Wholly our own
What will we elect
Too due
Bought and souled
Buy the damned and the elect
Won and the same
Decidedly over turn
Your choice
The end is coming…to the Republican national convention.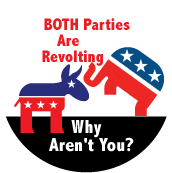 The Democratic national convention is coming next week.  Well, I guess we are more like in the middle of the end.  The careening authoritarianism of Donald Trump will be supervened by the triangulating trajectory of Hillary Clinton.  These daze long political ads prestidigitate the non-binding platform in the raze to see who can commandeer the Commander-in-chief helm, sans the funny looking hat of other scary clowns.
This poem exposes the juxtaposers, who adorn false choices in efface of chronically neglected issues and give rare acclaim to the canon fodder of their revered platforms.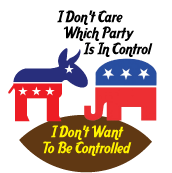 Awe that is sacred will be parsed into bite-sized pieces in keeping with easy consumption.  We are the promised people, wee are tolled.  Bootstraps for awe.  The souls will have no wholes.  Sow the aristocrat's state, agin and agin.
The time is ripe to stop following these crumb bums.  In the revolution, you will turn around and see your neighbor, not these professional posers.  
Humanity needs human faces, not friendish facades.  If our future wrests soully with electoral politics, that literal ballot to ahead bids us quite miraculously to walk away, a cross bridges yet unbuilt, over walls however deliriously high, to a fresh future steeped in ancient wisdom and teeming with expectant vitality.  The choice is ours, ever worth more than can ever be printed on paper, or boxes checked out.
Feel free to check out lots more funny election designs, cool third party designs, and hilarious anti-Republican designs: