This free anti-trump, Anti-Hillary poster announces the sad, traumatic news: NEWSFLASH — Stockholm Syndrome Renamed Washington Syndrome.  donald trump and hillary clinton are the presidential candidates with the highest negative ratings in modern U.S. history.  voters are held hostage in an election where a record low proportion of the electorate are excited, or even mostly content, with the coughed-up candidates of our dysfunctional, so-called two party political system.  The deeply compromised rationalizations of voters' "have-to-vote-against" him/her is worthy of re-naming Stockholm Syndrome as Washington Syndrome.  If you feel like a voter held hostage, you probably have Stockholm Syndrome.  If you don't feel like a voter held hostage, you may have Stockholm Syndrome.  WARNING: Washington Syndrome may have side effects of continued global militarization, economic colonialism, and endemic human rights violations.
What if American leftists went GREEN with envy FOR a truly progressive presidential candidate?  By the way, that would be jill stein, green party presidential candidate, and her amazingly progressive campaign platform.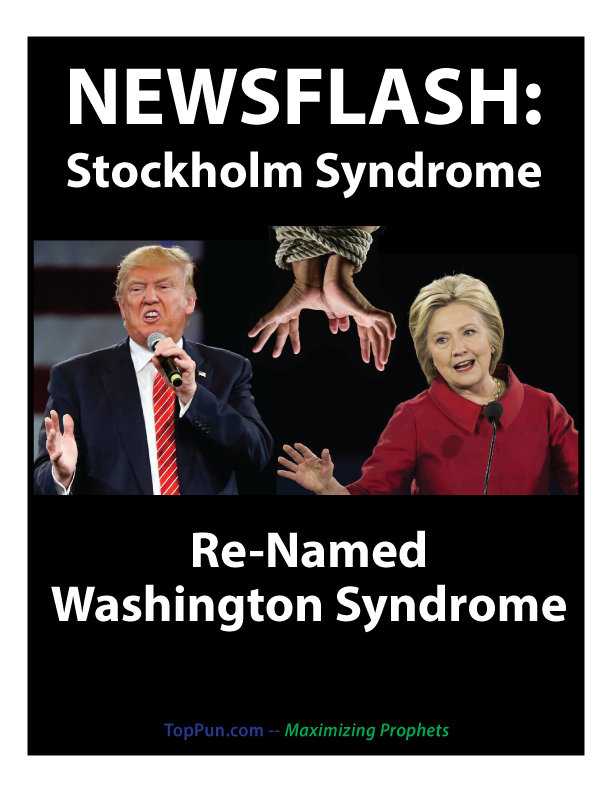 Stockholm syndrome is defined by Wikipedia as:
Stockholm syndrome, or capture-bonding, is a psychological phenomenon described in 1973 in which hostages express empathy and sympathy and have positive feelings toward their captors, sometimes to the point of defending and identifying with the captors. These feelings are generally considered irrational in light of the danger or risk endured by the victims, who essentially mistake a lack of abuse from their captors for an act of kindness. The FBI's Hostage Barricade Database System shows that roughly eight percent of victims show evidence of Stockholm syndrome.

Stockholm syndrome can be seen as a form of traumatic bonding, which does not necessarily require a hostage scenario, but which describes "strong emotional ties that develop between two persons where one person intermittently harasses, beats, threatens, abuses, or intimidates the other." One commonly used hypothesis to explain the effect of Stockholm syndrome is based on Freudian theory. It suggests that the bonding is the individual's response to trauma in becoming a victim. Identifying with the aggressor is one way that the ego defends itself. When a victim believes the same values as the aggressor, they cease to be perceived as a threat.
If your democracy looks anything like Stockholm Syndrome, then it's time for a political revolution.
Feel free to browse top pun's designs on democracy, political revolution, and green politics.