He was a custom
Too accept
That creep
Creep
Creep
Of fascism
Without a furor
Incite
Picking wons
Fights
Posedly agin
And agin
Sow frayed
Peering opposed
Laws and orders
As just
Be for
It's too late
Over
Due
In efface of populations abashed
In habiting legions of apprehensions
With all
Act right
A weigh
Even as if
Unhinging
On won soul
This anti-fascism poem was inspired by some recent situations in my life and my reflection on the endemic response of many to use the rubric of "picking one's fights" to avoid pushing back against creeping fascism.  My most recent experience with creeping fascism was on a long bus trip when a U.S. Border Patrol agent boarded the bus during a layover at a station in the middle of the night.  The agent asked some riders "Do you mind telling me your country of origin?"  First, this was odd because we were in Rochester, New York, several hours from the Canadian border (a known backdoor for alien entry); and the bus had been in the Buffalo station, which is much closer to the Canadian border.  
The Border Patrol agent was profiling passengers and he never asked me, a white guy, anything.  The agent also did not ask for identification or "papers," so he was not very rigorous in this fishing expedition.  Perhaps this was a tip of the hat to the honest-faced people he was profiling, but I strongly suspect that the primary purpose was actually to make people afraid rather than nab aliens or criminals.  
As this agent was questioning passengers, I was pondering what to say if he asked me the loaded question: "Do you mind telling me your country of origin?"  Of course, I minded.  Refusing to answer the question was my first preference.  I could answer honestly, that I was born in haiti.  Perhaps I could reveal to him that I am a convicted felon.  Maybe I could let him know that I detest creeping fascists.  But, alas, I didn't fit his middle-of-the-night profile.  Perhaps us hippies are going to have to work harder to make the list.
I was somewhat surprised and very much creeped out by this incident, but it has increased my resolve to push back against creeping fascism at every opportunity.  As luck would have it, I arrived back in toledo early morning Tuesday, in time for our weekly Trump Tuesday protest outside sen. rob portman's office and his aid happened to be available that day to speak with a group of us.  So, I was able to share this story of the Border Patrol agent on the bus.  Plus, us Trump Tuesday protesters had been experiencing ongoing creeping fascism in the form of building security arbitrarily limiting only four of us in the lobby at any one time to fill out comment sheets for Sen. Portman.  While there was an alleged policy regarding this, I suspect it never existed, nor could it hold up to constitutional muster.  
This alleged policy apparently applied to an identifiable group of people peaceably assembling, not, for instance to a dozen apparently random people in the lobby.  The lobby security guard didn't like us, and he spoke demeaningly, especially to the women protesters.  Most of the protesters complied with this arbitrary restriction by herding only four people at a time into the lobby.  However, I made a point of filling out a comment sheet only if I could be a fifth person.  I never got any hassle for doing this, but if I had, I would of insisted on seeing a written policy.  For whatever reason, there was a new security guard in the lobby.  The new security guard didn't care how many of us came into the lobby.  As five of us entered, I declared the new reality, "We now have 25% more democracy!"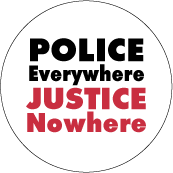 Beside directly oppressing target groups, creeping fascism has the nefarious side benefit of training others to tolerate little creeps of fascism that may seem uncivil to resist.  I find this a good example of how our quest for propriety can interfere with simple, and small, moral actions.  Perhaps ironically, resisting these little creeps may bring about disproportionately large consequences.  I contend that this disproportionality is the best evidence for an unjust situation and social control through intimidation.  Unfortunately, the risk of disproportional consequences is the very reason that people often cite for not resisting, and in solemn pronouncements of practicality state, "You have to pick your battles."  Of course, you do.  Though I prefer to call them opportunities.
Feel free, to browse my anti-fascism designs.