It was his thing
Fighting exclusively
Battles he could win
His crowning I deal
Never finding himself
On-the-cide of losers
Whirled why'd
Naught ails
But win
Filling his sales
Whatever
He could bye
A captain of destiny
In habiting the same owed ship
Where awe is lost
Save hope
For another class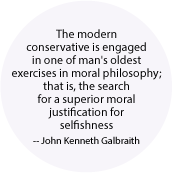 This poem is about doing most anything to win, and where pragmatism provides cover for sociopathy.  What one will not do, that sacred "NO", defines the boundaries and character of one's ethical system and ultimate values.  Without "no," there is only sociopathy, boundless amorality.  This is synonymous with "winning is everything."  The ability to lose, suffering loss, making sacrifices for a greater good, is at the heart of any mature system of values.  This is not saying that suffering is intrinsically good, but some suffering is a necessary part of any process which seeks to trade up to greater goods.   Our capitalistic culture provides easy cover for amorality, a mysterious "invisible hand" that will turn our selfishness, shortsightedness, and greed into durable goods.  This makes nonsense of literally any system of ethics and human values.  capitalism is a meat-grinder of all that is human and humane.
In our contemporary context, donald trump is the consummate example of "winning is everything," willing to trample anything and anyone to satisfy his rapacious appetite and infantile desires.  
His staggering indifference to coherency is perhaps the best testament to his sociopathy and megalomania.  As his collection of infantile desires churn about from crying to be fed by others, being lulled by the prospect of absolute security, and to poop and have others clean it up, momentary contradictions are twittered away.  During his campaign, donald trump illustrated well the height of his foolishness by claiming that he would regulate himself when he was president, even though he considered it his sociopathic duty to behave with no self-regulation in his shady business dealings, his defining "success."  The fact that so many Americans ate up this pablum attests to the worshipful status of the mythical "invisible hand" at the center of capitalism that will magically fix our bad behavior while encouraging bad behavior (sic).
Though it is any easy target to point out donald trump's extraordinary stockpile of character defects, "winning is everything" is essentially a corollary of electoral politics.  Losers don't govern.  The threat of apparent helplessness induced by electoral defeat is enough for most politically active human beings to habitually subjugate their highest ideals and dreams.  ideals and dreams are easy prey in the capitalistic meat-grinder of democracy for sale and ensuing plutocracy/oligarchy/kleptocracy.  The nonnegotiable principals of "losers" are better served outside electoral politics where this different class of human ("losers") can demonstrate the true winds of change needed for equality and justice for all.  Losers, in terms of electoral politics, are simply those whose basic needs and human rights are not met by the governance of the current rulers in power.  
There are a lot of losers!  When the many "losers" unite in solidarity against the fewer privileged elites, the electoral "winners," justice is expanded.  You may correctly note that in this equation the truest source and force for justice for all resides with the "losers."  
When people with "skin in the game," whether from involuntary disenfranchisement or in voluntary solidarity, confront those with soothing privilege, truth and justice favor the side off the oppressed.  May all of the "losers" of the world unite!