Today is the 42nd anniversary of the Kent State Massacre, where four students were killed and nine students were injured when national Guard troops opened fire on anti-war demonstrators.  Below is a picture of Arlington Midwest at Kent state, May 4, 2006.  Arlington Midwest is a display of the Northwest Ohio Peace Coalition which organizes traveling displays of tombstones representing the human cost of the war in Iraq and Afghanistan.  The display includes a simulated tombstone with name, rank, age and state of origin for each fallen U.S. soldier.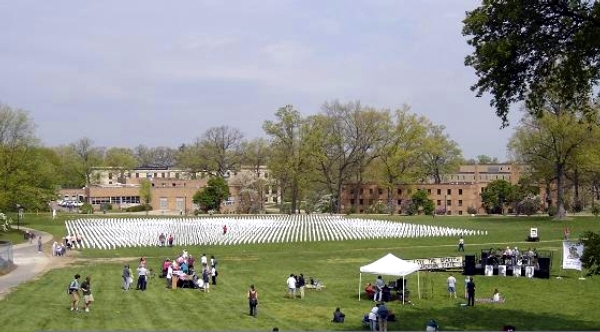 Below is a  poem reflecting on the Kent state Massacre, by Terry Lodge, a member of the Northwest Ohio Peace Coalition, activist lawyer, toledo's People's Attorney, and usual suspect:
Looking down from the black marble memorial
Grave reminder
Of a dark chapter
A nonfiction nightmare
Played out in an Ohio theater of war
I'm halfway between Blanket Hill and the valley of death of May 4, 1970
An observation post above a field of green
Today dressed up as thousands of war crimes.
It is May
And the semi-shade of the black oak branches
And their celadon new leaves
Wreath the distant, orderly rows
Of white spring petals
Fallen from the Tree of life.
Tears water this chiaroscuro of whitewash, nestled
In the shadows where crimes against humanity are plotted.
From a distance, it's a palette worthy of Manet,
Choreographed by Rumsfeld.
These petals will produce no fruit
Nor beauty or poetry
Their leaves are pages of the guest registers
Of three thousand funeral homes.
Silently we listen
For some hopeful spring noise
That their blood might have nurtured,
Answered by silence.